Description
Promotes Insulin Sensitivity

Supports Healthy Blood Sugar Levels

Has Antimicrobial And Anti-fungal Properties

Facilitates Treatment of SIBO And Candida Overgrowth 

Supports Healthy Cholesterol Levels

Promotes Lean Body Composition And Optimal Weight

Supports Immune Health

Can Curb Appetite
Berbemycin Lean Is A Multidimensional Formula With Numerous Health Benefits
Berbermycin Lean includes1,000 mg of berberine hydrochloride (HCl) derived from Berberis aristata, commonly known as Indian barberry.
It's one of my favorite supplements and for right reason Berberine exerts marked benefits in insulin sensitivity, blood sugar support, healthy gut microbial balance, supports lean body mass, immune health and neurologic health. 
Berbemycin Lean Supports Healthy Blood Sugar And Insulin Levels
I take Berbemycin Lean everyday, its one of my secret supplements for a healthy metabolism.  You may already know that one of the secrets to 'anti-aging' on the inside, to chronic disease prevention, and to overall health and well-being is controlling insulin and blood sugar.  Berberine is a plant alkaloid derived from several different plant species that have been traditionally used in Ayurveda and traditional Chinese medicine for centuries and now modern research has demonstrated in numerous studies, berberine's numerous health benefits including its role in supporting healthy insulin and blood sugar levels.   Although more research is needed to evaluate the effects of berberine in healthy subjects, several trials have assessed the hypoglycemic effect of berberine as an adjuvant to existing treatments.  Berberine is also believed to be involved in the regulation of pancreatic beta cell function, and it has been observed to inhibit the expression of disaccharidases in the duodenum, resulting in less glucose being formed from carbohydrate digestion.
These studies were primarily in subjects with type 2 diabetes who were administered doses ranging from 1,000 to 1,500 mg per day. The results demonstrated a reduction in HbA1c, fasting blood glucose, and post-prandial plasma glucose levels. 
Berbemycin Lean Supports Healthy Cholesterol Metabolism
Berberine not only supports healthy blood sugar and insulin levels but also promotes healthy lipid metabolism and cholesterol levels.  These effects may be due to its ability to modulation gut microbes.  Berberine unregulated or promotes more healthy pathways in lipid metabolism and while suppressing lipogenesis and gluconeogenesis. A wide range of studies have also demonstrated that berberine provides cardiovascular benefits due to its lipid-lowering effect. According to the results of several studies including a meta-analysis of 27 clinical trials with over 2,500 participants, berberine doses ranging from 500 mg to 1,500 mg per day had a positive benefit on lipid profile cardiovascular markers, including LDL cholesterol, HDL cholesterol, and triglyceride levels. 
Berberine Promotes Gastrointestinal Health and Microbial Balance
One of the most time-honored uses of berberine is as a traditional remedy for gut health including loose or irregular bowels .  Studies show that berberine supports your gut by promoting healthy microbial activity in the gastrointestinal tract.   Berberine has antibacterial and anti fungal properties and is definitely in my tool box for tackling problems like SIBO and Candida overgrowth.  Many times when I perform Functional stool testing, Comprehensive Stool Analysis, in certain patients with challenging and long standing gut problems, we discover abnormal candida species that are resistant to anti-fungals and certain botanicals but sensitive to berberine. In my own case after years of tacking candida berberine was one main component that really helped curb the overgrowth and restore balance to my gut. Numerous studies from 1960 to present support berberine positive effects on gut health.   In a randomized controlled trial in subjects with watery stools thought to be caused by certain strains of bacteria, it was found that a single 400 mg dose of berberine resulted in significantly improved symptoms.  While initially widely used for its effect on gastrointestinal health, berberine was also discovered to have positive effects on blood sugar metabolism in studies when using it to ease GI upset in diabetic patients. 
Berberine Supports Healthy Immune Function And Balance
Berberine has been shown to positively affect the function of the immune system by modulating the immune system through a shift in the cellular immune response to Th2, and stimulation of IL-4 and IL-10, shifting the system to a more anti-inflammatory state.  This ability of berberine to modulate the immune system also gives it neuroprotective activity. 
Berberine Supports Healthy Immune Function And Balance
Has been diagnosed with SIBO, Candida or Leaky Gut 

Is experiencing digestive issues such as bloating, gas or burping

Wants to support their Gastrointestinal Health

Has issues with blood sugar or lipid metabolism

Wants to support insulin sensitivity

Wants to promote lean body mass and healthy body composition

Wants to support their immune health
All Dr. Rashel Tahzib Formulas Meet or Exceed cGMP Quality Standards
How do I take Berbemycin Lean?
Berbemycin Lean is best taken on an empty stomach 1 capsule two to three times daily.  If taking it on an empty stomach upsets your stomach you can take it with food.
Can I take Berbemycin Lean if I am using medications prescribed for gut problems?
You can benefit from Berbemycin Lean if you have gut problems and are addressing imbalanced gut bacteria or yeast with antifungals or antibacterials on board if there are no contraindications or serious medical conditions that are contraindicated. Some studies have shown that using botanicals can offer better long term benefits when it comes to overcoming SIBO for example compared to than Antibiotics.
Can I take Berbemycin Lean if I am using medications prescribed for Blood sugar or diabetes?
If you taking  medications for diabetes, it's important to speak with your healthcare provider before taking Berbemycin Lean due to its ability to balance blood sugar and support healthy insulin metabolism and healthy blood sugar levels. Your need for pharmaceutical medication may decrease and blood sugar levels may become more balanced. In particular, berberine may interact with medications that lower blood sugar, and may increase the risk of hypoglycemia, or low blood sugar levels.
Can I take the Berbemycin Lean if I am using other Health Restore kits and supplements?
Generally, Health Restore supplements are safe to take along side each other and actually exert increased benefits as long as you are not taking  medications that are contraindicated or have a serious medical conditions that may contraindicate use then yes other Health Restore supplements can be taken at the same time as taking Berbemycin Lean. My Health Restore supplements are physician formulated and of the highest purity, they are pharmaceutical grade, gluten free, non GMO, without artificial sweeteners and fully GMP compliant making them safe and effective for most health restoration protocols. 
Can children or teens take Berbemycin Lean?
Generally children age 12 or older with normal body weight and no serious medical conditions may benefit from the SIBO Clear Kit, however I always recommend that you first speak to your child's pediatrician so that their entire health and history be taken into consideration.
Am I able to take Berbemycin Lean if I am pregnant or nursing?
When pregnant or nursing, It is always recommended and best to discuss any new supplements with your health care provider first. Pregnancy is generally not a good time to start new supplement protocols and gastrointestinal detoxification.
†These statements have not been evaluated by the Food and Drug Administration. This product is not intended to diagnose, treat, cure, or prevent any disease
Directions: Take two capsules twice daily with or without food or as directed by you healthcare professional. 
Contains: 60 Capsules
Cautions: Consult your healthcare professional before use. Individuals taking medication should discuss potential interactions with their healthcare professionals. 
Does Not Contain: Wheat, gluten, corn, yeast, soy protein, dairy products, shellfish, peanuts, tree nuts, egg, ingredients derived from genetically modified organisms (GMOs), artificial colors, artificial sweeteners, or artificial preservatives.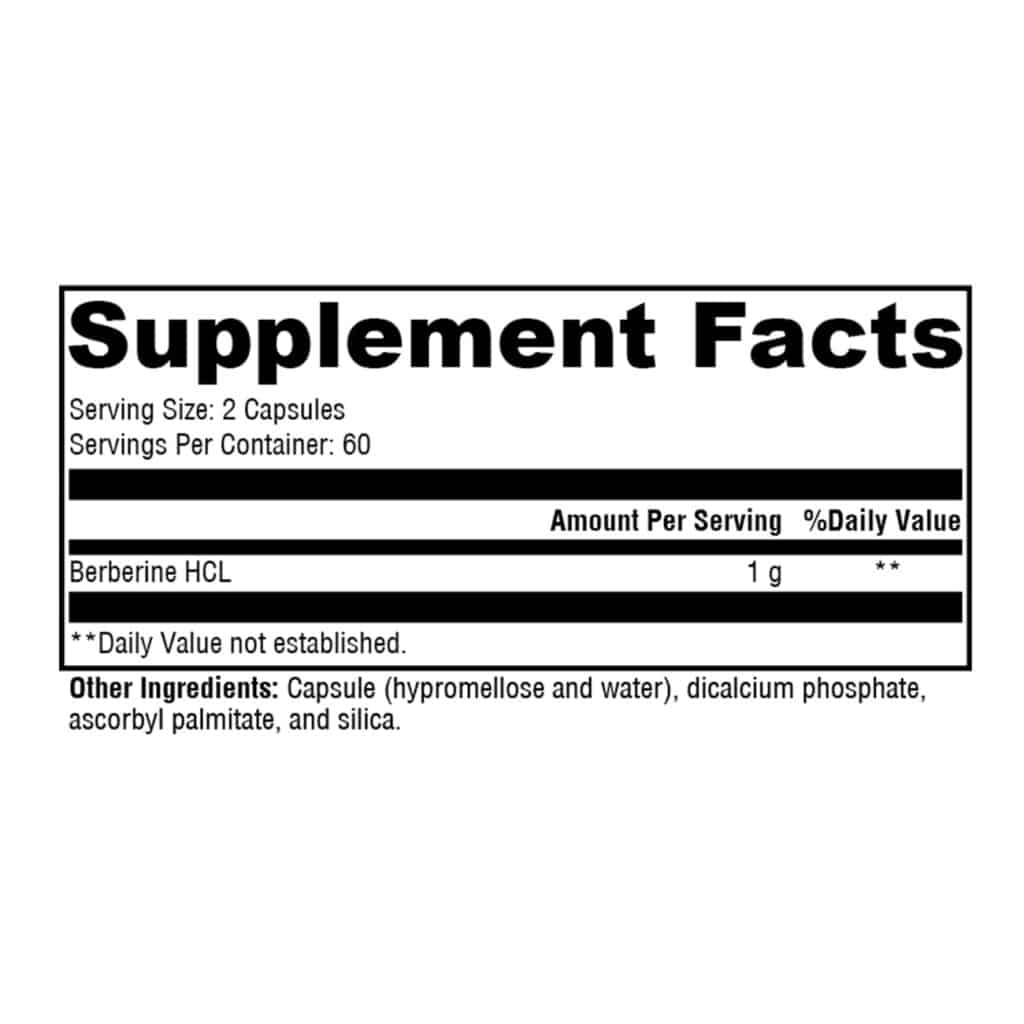 When you invest in your health through Advance Health Restore products you can rest assured that you will actually know exactly what you will receive since all our products are rigorously tested and 3rd party tested and verified.   
Surprisingly, there is no FDA regulation for nutritional supplements, meaning the supplement. Industry is not regulated. This means that each manufacturer as to their good will has the responsibility to deliver quality supplements that actually contain nutrients, in the stated amounts, and are free of harmful ingredients.  Unfortunately the supplement industry is filled with low quality supplements most of which contain harmful ingredients, additives, fillers, dyes, GMO's, and other toxins that are actually hazardous to health. The very same poor quality supplements can be packaged professionally and advertised rigorously and sold at local pharmacies, stores and online
Every supplement I carry and recommend in my store has been 3rd party tested for purity, quality, potency, and composition and received the Good Manufacturing Practices (GMP) seal. We guarantee that each of our formulas is 100% compliant with the ingredients listed on the label, meets or exceeds GMP quality standards, and undergoes rigorous testing.
Knowing this you can rest assured that what you are getting is safe, effective and nourishing and includes exactly what is stated. 
All of my Health Restore Formulas are Pharmaceutical grade, high-potency, synergistic supplements that maximize effectiveness and value.
All of my formulas are pharmaceutical grade. This means that not only has the product has been manufactured under GMP (good manufacturing practices) conditions and is safe, pure, and effective but they also contain higher amounts of nutrients and those nutrients used work synergistically together to maximize effectiveness and positive health outcomes. 
It also means that often you are getting more value for cost based on cost per unit since supplements are more potent per capsule or gram. If you look at a supplement such as my Bioactiv B Complex Supreme or Therbiotics  or Ultra Vitamin D/K 10,000 as examples you would need to take multiple capsules sometimes half a bottle of certain supplements to get the same potency.  Being that I am a physician who also applies the principles of Orthomolecular medicine to my practice, My Health Restore supplements are more potent and bioactive, using bioactive forms of vitamins whenever appropriate. The science of Orthomolecular medicine is based on using the correct forms of vitamin molecules in the correct amounts based on the body's biochemistry.  You may not have known that vitamins have active and inactive forms and in some patients the inactive forms of the vitamins (which are the forms frequently used by most nutritional supplement companies are not only ineffective for many patients but can actually be harmful to some patients like those with the MTHFR DNA Mutation as one example. 
My Health Restore supplements are free of harmful toxic ingredients and do not contain gluten, dairy, soy, GMOs, preservatives, or dyes.  Think about it, most of you who are here take your health seriously and pay attention to the foods you eat and their ingredients avoiding toxic and inflammatory foods such as foods with dyes, preservatives, GMO's, gluten etc.  Why should you be getting a dose of these toxic compounds in your daily supplements. Most people may not realize that toxic ingredients may even be in nutritional supplements but as discussed above and being that there is no FDA regulation this is often the case.  My products are rigorously tested and in In assuring the purity, strength, and composition of all Health Restore products each finished product has the following performed prior to releasing for distribution:
Label Claim Verification

 – Each active ingredient is verified to be no less than 100% of the amount claimed on the label.

Microorganisms

 – Must meet United States Pharmacopeia (USP), American Herbal Products Association (AHPA), and/or National Sanitation Foundation (NSF) acceptance criteria for dietary supplements.

Heavy Metals

 – Most products are required to meet USP acceptance criteria for dietary supplements. Where feasible, others must meet California's Proposition 65 safe harbor levels.

Physical Characteristic

s – Capsule/tablet weight average and weight variation, disintegration, organoleptic testing, scoop testing, etc.

Reasonably Anticipated Contaminants

 – In certain finished products, testing is done for contaminants that have a slight possibility of ending up in the product. For example, due to the processing of pea protein and our assurance that all of our functional foods are gluten free, we test each and every lot for gluten to confirm it meets the FDA's recently finalized definition for "gluten free."
This level of testing IS NOT THE NORM in the nutraceutical field or supplement industry. Our testing goes BEYOND FDA REQUIREMENTS to assure you are getting the best quality supplements out there and to help assure effectiveness, quality, purity and clinical outcomes for you. 
There are a few incredibly rare exceptions where products contain trace amounts of dairy or egg because of the way they need to be formulated, however they are clearly marked on the product page and are in such low quantities that even my very sensitive patients typically have not had a reaction.
The Supplements I formulate and recommend not only have have the highest quality ingredients but the ingredients are synergistic meaning they often work together to improve effectiveness ad are in the form that is best used and absorbed by your body. 
The form vitamins or minerals come in is very important as to its effectiveness or wether or not its even absorbed by the body or able to be utilized. This is something supplement companies hope you do not know or pay attention to since most supplements and companies even ones used by some doctors, pharmacies, and popular brands are not in their bioactive or best absorbed form.  You can rest assured that my formulas are always in their most bioavailable and best absorbed form for optimal clinical improvement and outcomes.
I have personally screened and used each formulated product in my store. Not only have I assured that every Health Restore product is researched, and vigorously tested, I have personally used and clinically worked hundreds and hundreds of patients using the products and assessing and following clinical outcomes, and patient improvement, to identify which products are most effective.
Shopping is risk-free with my 15 day return guarantee. I stand behind all of the products I carry in my store. If for any reason you are not satisfied with your purchase, simply send the unused portion back to me, and we will refund your money.  Protein Bars are not returnable. 
**Please see FAQ for Applicable Exclusions