Description
The Essentials Kit includes four important nutritional supplements that is your go to if you want simple yet comprehensive whole body support or are new to nutritional supplements, wish to get started and have your bases covered.  I recommend this kit to almost everyone!
Supports comprehensive whole body health and well being

Provides bioactive vitamin and trace mineral support

Provides gastrointestinal, detoxification, immune support

Supports a healthy inflammatory response

Provides 26 grams of low allergen protein 

Supports energy and lean body mass

Is a great starting point for building on to a targeted supplement regimen

Great for optimal health support or health restoration.
I always say that health is our greatest asset and disease prevention is invaluable and I designed my Essentials Kit on those very same principles, because I firmly believe that an ounce of prevention is worth pounds of cure.   I formulated my Essentials Kit, to provide everyone a clear, simple, yet comprehensive starting point to support the foundation of health, that they can build on if they choose. 
In todays market there is so much advertising and so many supplements out there that it can be confusing or even overwhelming deciding where to start. It is very important for you to know that not all supplements are the same even if they contain similar ingredients or may have a similar label that does not mean that what they actually contain is the same.  Since there is no FDA regulation of nutritional supplements unfortunately, most supplements out there are filled with additives, and fillers and do not actually have the active forms of vitamins and minerals your body can utilize.  
My Health Essential Kit Supplements are research based, targeted, pure, and effective and they contain bioactive forms of vitamins and chelated trace minerals making it easy for your body and cells to actually absorb and use the nutrients. My Health Restore formulas are also synergistic, meaning the combinations of nutrients, vitamins and or minerals make them both more absorbable and more metabolically effective.  Using nutrients for whole body health support is actually a science known as Orthomolecular Medicine and for the principles to be implemented correctly the manufacturer must fully abide by the details of human biochemistry rather than use general terms to refer to ingredients, inactive vitamins and minerals that are not even in the form the body or gastrointestinal tract can absorb as is the case with most supplements on the market.   Further, many times these ingredients do more harm than any good due to the additives, colors, fillers, GMO's, sugars, dyes that they contain. 
Today, more than ever before in history, nutritional supplementation is needed to support and promote optimal health and to act as a cushion against disease.  This is due to a number of factors, including soil nutrient depletion, farming practices being far less favorable, the industrialization of food, animal farming practices being detrimental to the health of animals and thereby their quality.  Other reasons are GMO's, pesticides, environmental toxin overload, antibiotics in food, pasteurization and processing techniques and more. To compound this most people are more stressed than ever increasing nutrient demands, mostly indoors lacking the benefits of the outdoors including sunshine and vitamin D. Most are living and raised in sterile environments and taking antibiotics and other medications that further negatively impact beneficial gut bacteria, gut health and cause nutrient depletion.  When we take all of this into consideration, it is no wonder many people are not feeling at their best, even if they are trying their best, to be healthy.
I included four very important nutritional supplements in the Essentials Kit that will give you comprehensive health support in a simple manner. 
What do we truly need on board to combat the above modern day challenges and remain strong and healthy in the face of them?  Although it may seem attractive at grocery store or pharmacy shelf, common multivitamins unfortunately do not do the job.  If you pay attention to the information about bioactive nutrients vs inactive nutrients and take into consideration how many of us may have gut issues or used antibiotics in the past or have genetic methylation issues which more that 70% of individuals that itself make those supplements not worthy. Further most have numerous ingredients that are GMO, or include additives, and fillers, dyes that are even carcinogenic. Then there are the 'proprietary blends' that really do not tell us anything about what amount of each ingredient is actually in the supplement. Most supplement companies are profit driven and are ignoring the science on the basis that the average consumer does not know enough to notice.  But this is serious business in that its your body and health we are talking about and what we put inside matters!
The four essential supplements each address important root aspects of health and can support and begin to restore most anyone's health.  One of my favorite health support nutrients is OptiDetox Plus Vanilla Sugar & Stevia Free which is the ultimate in protein and nutrient support with bioactive vitamins, nutrients and highly absorbable minerals for whole body support that can be enjoyed as a delicious daily shake or smoothie. 
Next, Ultra Vitamin D/K 10,000 is powerful, synergistic support for virtually all the cells in your body including Immune and cardiovascular health.
I included Optimal Pure Omegas in my Health Restore Essentials Kit because Inflammation can be detrimental to your health and Optimal Pure Omegas offers high dose EPA DHA for balanced inflammation, and numerous other benefits including healthy cholesterol support, brain health, and cardiovascular health.  Finally science and research have proven that your gut health, and the state of your microbiome and beneficial gut bacteria dictate your health, just like a second genome, so I made sure to include Therbiotics Supreme Daily DF to give you daily support with 30 Billion viable, and stable probiotics for optimal gut health and microbial balance.
Optidetox Plus Vanilla Sugar & Stevia Free is my go to comprehensive medical food formulated to give your body nutritional, detoxification and protein support. I designed this nutrient rich, amino acid rich, low allergy potential, high protein powder to give your body added support specifically to help your body detoxify toxins, support gastrointestinal health, provide excellent antioxidant support and replenish nutrients to promote or help restore optimal health.  Wether enjoyed in every day smoothies or in times of stress such as when going through a detoxification plan, healing your gastrointestinal system, or curbing pain or inflammation OptiDetox Plus gives you the support you need to optimize your health.  I especially designed it to support and optimize your body's natural detoxification mechanisms for balanced healthy detoxification, to support your liver and gastrointestinal health and to balance and curb inflammation.  It tastes great and is sweetened with monk fruit and a great option for vegans as well!
Optidetox Plus Vanila Sugar & Stevia Free has 26 grams of high quality protein making it an outstanding source of essential amino acids and great collagen building support. Protein is an essential part of keeping your body healthy and your metabolism optimal. OptiDetox Plus Vanilla Sugar & Stevia Free will help keep your blood sugar stable and promote lean body mass. It also includes an array of nutrients that support your entire body as well as specific nutrients to support your body's natural detoxification processes like pomegranate extract, green tea, activated methylated B12 and activated methylated folate, B vitamins and chelated trace minerals. We can't have whole body support without one of the cornerstones of health, Gastrointestinal support.  OptiDetox Plus Vanilla Sugar & Stevia Free includes nutrients that support a healthy gut and a healthy intestinal lining such as ginger, Inulin and flaxseeds.  
You are covered as far as antioxidant support and inflammation support.  I added an array of antioxidants and important anti-inflammatory nutrients supporting your body's cytokine balance and inflammatory response and counteracting potential free radical damage.
OptiDetox Plus Vanilla is also a favorite for supporting effective weight loss, lean body mass, healthy muscle mass and body composition and even athletic performance.
Optidetox Plus Vanilla Sugar & Stevia Free is a comprehensive medical food and low allergen protein powder and is one of the most clean sources of protein and nutritional support on the market.  It is gluten, dairy, corn and sugar-free, and non-GMO.
EPA and DHA from fish oil promotes wellness by supporting cardiovascular health, immune and Inflammatory response, joint health, and brain and nervous system function.  
To provide the benefits of EPA and DHA I included Optimal Pure Omegas, my five star, certified fish oil by International Fish Oil Standards (IFOS) which assures the highest level of purity, stability, and potency in Optimal Pure Omegas.  With a multitude of health benefits and Its for good reason that Optimal Pure Omegas are one of the essential supplements I recommend for everyone for overall well being, it is also key in supporting optimal cardiovascular health, and balanced inflammatory response.  Each dose of provides 900 mg of EPA and DHA, that is higher than most omegas out there and is delivered in a small, fish-gelatin–based soft gels covered with certified enteric coating so that they are easy to swallow and the EPA/DHA content is optimally absorbed. Health Benefits of EPA/DHA are numerous.  Studies have shown that omega-3 fatty acids are a great way to promote cardiovascular health, support healthy blood flow, healthy coagulation, a healthy inflammatory response and promote neurological health and mental functioning, a balanced immune response, and healthy glucose and insulin metabolism. Research suggests that it takes 2 g/day of DHA supplementation over period of a month to get optimal blood levels saturate the plasma and three to six months of supplementation to optimize tissue levels.
You have all probably heard about Vitamin D by now with all the attention its been getting the past few years, Vitamin D plays a major role in whole body health especially since vitamin D receptors are throughout the body in every area including bone, heart, brain, and immune system. Virtually all body tissues require Vitamin D for optimal function.  Vitamin D is a vitamin but it also functions as a hormone with important signaling functions in the body. Vitamin D and Vitamin K work synergistically together meaning they each make the others positive functions more effective and pronounced. Vitamin D and Vitamin k work together especially to promote cardiovascular and bone health and strength. 
Therbiotics Supreme Daily DF is a research based probiotic that supports immune health, optimal gastrointestinal health, and gut microbial and yeast balance.  Probiotics or beneficial microflora, mainly reside in our gastrointestinal tract comprising 70% of our immune system. They have a significant and huge impact on our health and well being.  We also have beneficial flora, probiotics on other organs such as skin, vaginal tract, eyes, mouth, nose etc but the largest number are in the gut, especially the colon.  These beneficial bacteria are compromised due to intake of antibiotics, oral contraceptives, steroids and anti-inflammatory drugs and poor diet, stress and surgery or illness. The result can be ill symptoms such as abdominal bloating, gas, burping, constipation as some of the initial signs with worsening health thereafter.  It is not only essential to supplement and support with probiotics but in order to actually get results and have the support be effective its crucial that it be a high quality, research based, high CFU, acid resistant probiotic to actually help support gastrointestinal function, repopulation, immune and overall health effectively and successfully.
Health Restore Essentials Kit is perfect for anyone who
Wants a simple way to incorporate whole body health support

Is looking to support optimal health and well being

Wants physician formulated supplements of highest quality and purity

Is on a path to restore their health 

Is new to nutritional supplements and wants a solid starting point 
How is Dr Rashel's Health Restore Essentials Kit best used?
OptiDetox Plus Vanilla Sugar & Stevia Free can be used once daily as part of your morning smoothie or shake, using two scoops blended in with water or almond, coconut or other nut milk. You may add berries or your usual smoothie goodies, it's also great just on its own.  It can also be used anytime during the day as a snack or meal replacement if you happen to be on the go. Therbiotics Supreme Daily DF is best taken daily in the morning. Optimal Pure Omegas is best taken one capsule twice daily with a meal, however if your schedule requires you can also take the two capsules at the same time with a meal.  Ultra Vitamin D/K 10,000 can be taken once daily if you have had very low vitamin D levels, are sick frequently, or live in a cold area, or don't have the time to be outdoors daily. If your levels are periodically checked by your doctor that's ideal optimal vitamin D levels are about 75 and almost everyone is far below that. If you do not get your levels checked regularly you can take it every other day or about four times per week.
Can Dr Rashel's Health Restore Essentials Kit be taken with other programs, kits and or supplements from Dr. Rashel's Health Restore store?
Unless you have a health condition or are on prescription medications that may be contraindicated, my supplements are generally safe to take alongside other high quality nutritional supplements, however, I always advise you speak with your healthcare provider if you have any concerns before starting any new supplements so that your health history and specific challenges may be taken into account.
Can children or teens benefit from The Essentials Kit Supplements?
Although many choose to start their older children or teenagers on the supplements I always recommend speaking to your pediatrician before starting new supplements to make sure their full health and medical history is considered.  Generally if your child is over the age of 12 and normal heigh and weight for their age with no serious medical problems they can also use the nutrients but should be cleared to do so by their pediatrician or health care provider.
Can Supplements in the Essentials Kit be taken by those who are pregnant or nursing?
When pregnant or nursing it is very important to always speak to your obstetrician or health care provider before starting any new supplements. It is best to wait until after nursing and pregnancy to start any new gut detox or other detox programs.  Vitamin D, Fish oil, and probiotics are important for health during pregnancy and preconception.   There have not been enough studies done in pregnancy on some of the nutrients and herbs in OptiDetox Plus Vanilla Sugar & Stevia Free therefore you will want to speak to your healthcare provider if pregnant or nursing. If you are planning to conceive I generally have my patients use OptiDetox Plus Vanilla Sugar & Stevia Free to get their nutrient levels optimal and provide whole body support.
Can I take the Essentials Kit Supplements if I have allergies?
The ingredients in the my Health Restore Essentials kit are gluten free, dairy free, corn free, egg free and yeast free.  OptiDetox Plus Vanilla Sugar & Stevia Free is formulated to include low allergen protein specifically for those with sensitivities or undergoing detoxification or gut gastrointestinal restoration protocols.  Due to its low allergen potential, high protein and nutrient content and targeted whole body support it is part of my Health Restore Detox Kit that supports whole body health, gastrointestinal, and immune function.
†These statements have not been evaluated by the Food and Drug Administration. This product is not intended to diagnose, treat, cure, or prevent any disease
OptiDetox Plus Vanilla Sugar & Stevia Free
Directions: Blend, shake, or briskly stir 2 level scoops (53 g) into 10-12 ounces chilled, pure water (or mix amount for desired thickness) and consume once daily, or use as directed by your healthcare practitioner.
Cautions: Consult your healthcare practitioner prior to use. Individuals taking medication should discuss potential interactions with their healthcare practitioner.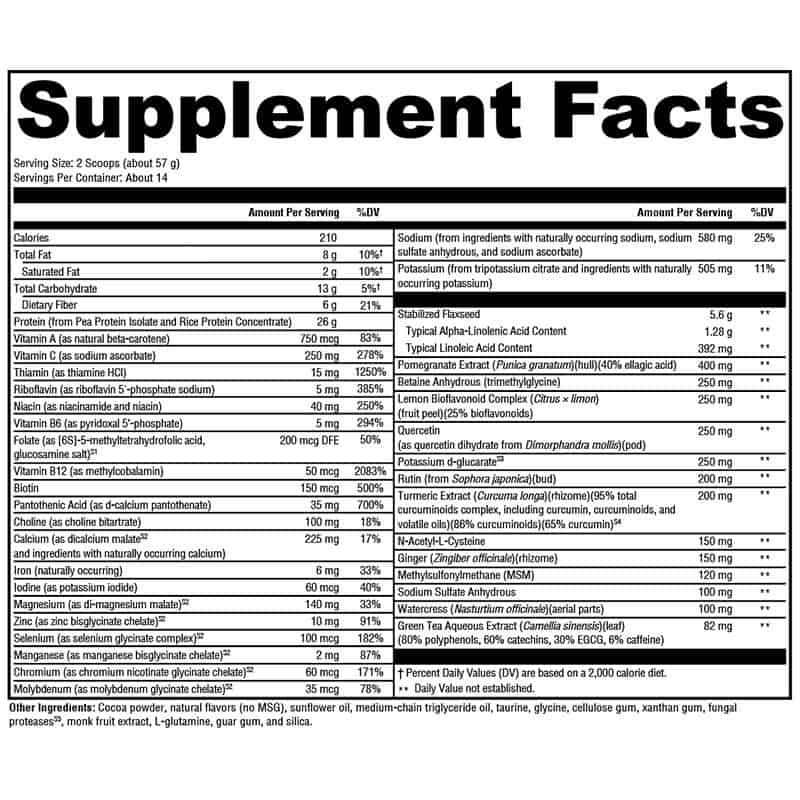 Directions: Take one softgel daily, or use it as directed by your healthcare practitioner.
Cautions: Individuals taking blood thinners or other medication should discuss potential interactions with their healthcare practitioner.
Does Not Contain: Wheat, gluten, soy, animal or dairy products, fish, shellfish, peanuts, tree nuts, egg, ingredients derived from genetically modified organisms (GMOs), artificial colors, artificial sweeteners, or artificial preservatives.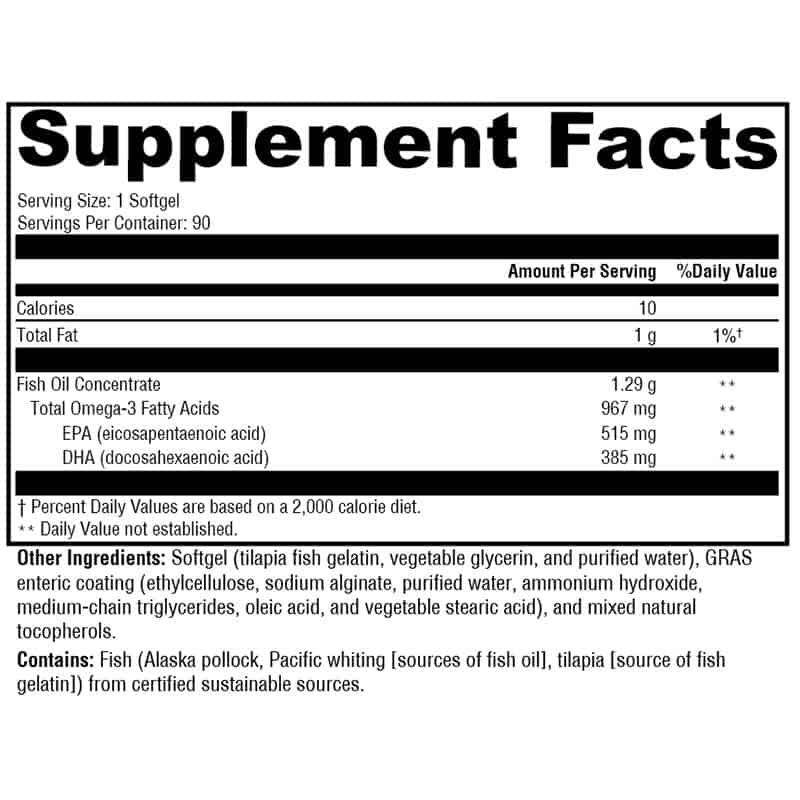 Therbiotics Supreme Daily DF
Directions: Take one capsule with water daily, or as directed by your healthcare practitioner. Consult your healthcare practitioner prior to use. Individuals taking medication should discuss potential interactions with their healthcare practitioner.
Does Not Contain: Wheat, gluten, soy, animal or dairy products, fish, shellfish, peanuts, tree nuts, egg, ingredients derived from genetically modified organisms (GMOs), artificial colors, artificial sweeteners, or artificial preservatives.
Cautions: Consult your healthcare practitioner prior to use. Individuals taking medication should discuss potential interactions with their healthcare practitioner.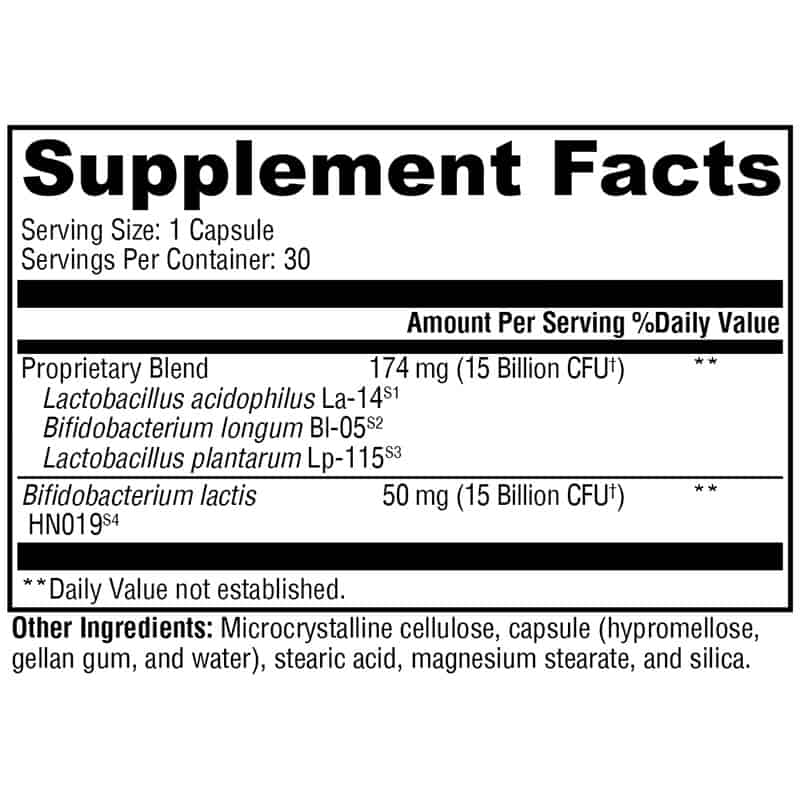 Directions:  Swallow one capsule daily with water, preferably at mealtime, or as directed by your healthcare practitioner.Consult your healthcare practitioner prior to use. 
Cautions: Individuals taking medication should discuss potential interactions with their healthcare practitioner. Consider total vitamin K intake (food + supplements) if you are taking blood-thinning medication.
Does Not Contain: Wheat, gluten, yeast, soy protein, dairy products, fish, shellfish, peanuts, tree nuts, egg, ingredients derived from genetically modified organisms (GMOs), artificial colors, artificial sweeteners, or artificial preservatives.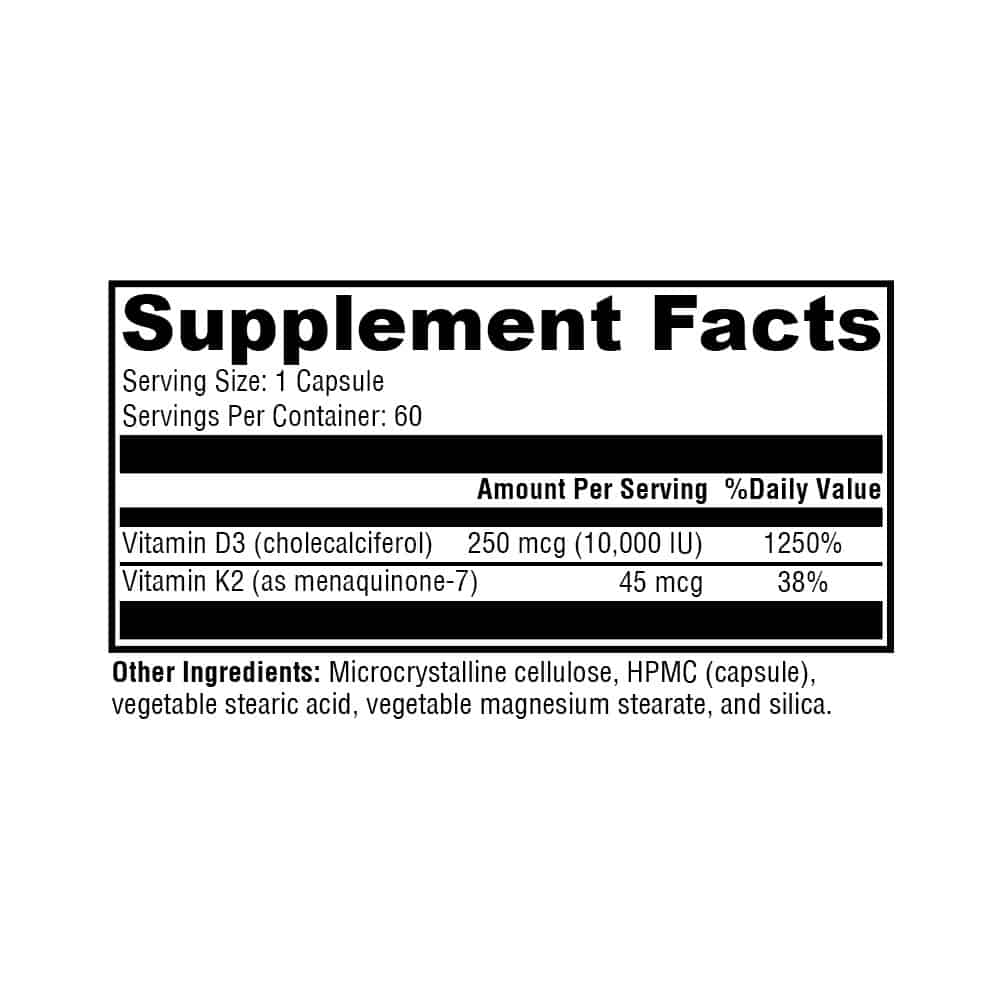 †These statements have not been evaluated by the Food and Drug Administration. This product is not intended to diagnose, treat, cure, or prevent any disease
When you invest in your health through my Advance Health Restore products you can rest assured that you will actually know exactly what you will receive since all our products are rigorously tested and 3rd party tested and verified.   
Surprisingly, there is no FDA regulation for nutritional supplements, meaning the supplement industry is not regulated. This means that each manufacturer as to their good will has the responsibility to deliver quality supplements that actually contain nutrients, in the stated amounts, and are free of harmful ingredients.  Unfortunately the supplement industry is filled with low quality supplements most of which contain harmful ingredients, additives, fillers, dyes, GMO's, and other toxins that are actually hazardous to health. The very same poor quality supplements can be packaged professionally and advertised rigorously and sold at local pharmacies, stores and online
Every supplement I carry and recommend in my store has been 3rd party tested for purity, quality, potency, and composition and received the Good Manufacturing Practices (GMP) seal. We guarantee that each of our formulas is 100% compliant with the ingredients listed on the label, meets or exceeds GMP quality standards, and undergoes rigorous testing.
Knowing this you can rest assured that what you are getting is safe, effective and nourishing and includes exactly what is stated. 
All of my Health Restore Formulas are Pharmaceutical grade, high-potency, synergistic supplements that maximize effectiveness and value.
All of my formulas are pharmaceutical grade. This means that not only has the product has been manufactured under GMP (good manufacturing practices) conditions and is safe, pure, and effective but they also contain higher amounts of nutrients and those nutrients used work synergistically together to maximize effectiveness and positive health outcomes. 
It also means that often you are getting more value for cost based on cost per unit since supplements are more potent per capsule or gram. If you look at my Health Restore supplements such as my BioActiv B-Complex Supreme or Therbiotics Supreme Daily DF  or Ultra Vitamin D/K 10,000 as examples you would need to take multiple capsules sometimes half a bottle of certain supplements to get the same potency.  Being that I am a physician who also applies the principles of Orthomolecular medicine to my practice, My Health Restore supplements are more potent and bioactive, using bioactive forms of vitamins whenever appropriate. The science of Orthomolecular medicine is based on using the correct forms of vitamin molecules in the correct amounts based on the body's biochemistry.  You may not have known that vitamins have active and inactive forms and in some patients the inactive forms of the vitamins (which are the forms frequently used by most nutritional supplement companies are not only ineffective for many patients but can actually be harmful to some patients like those with the MTHFR DNA Mutation as one example. 
My Health Restore supplements are free of harmful toxic ingredients and do not contain gluten, dairy, soy, GMOs, preservatives, or dyes.  Think about it, most of you who are here take your health seriously and pay attention to the foods you eat and their ingredients avoiding toxic and inflammatory foods such as foods with dyes, preservatives, GMO's, gluten etc.  Why should you be getting a dose of these toxic compounds in your daily supplements. Most people may not realize that toxic ingredients may even be in nutritional supplements but as discussed above and being that there is no FDA regulation this is often the case.  My products are rigorously tested and in In assuring the purity, strength, and composition of all Health Restore products each finished product has the following performed prior to releasing for distribution:
Label Claim Verification

 – Each active ingredient is verified to be no less than 100% of the amount claimed on the label.

Microorganisms

 – Must meet United States Pharmacopeia (USP), American Herbal Products Association (AHPA), and/or National Sanitation Foundation (NSF) acceptance criteria for dietary supplements.

Heavy Metals

 – Most products are required to meet USP acceptance criteria for dietary supplements. Where feasible, others must meet California's Proposition 65 safe harbor levels.

Physical Characteristic

s – Capsule/tablet weight average and weight variation, disintegration, organoleptic testing, scoop testing, etc.

Reasonably Anticipated Contaminants

 – In certain finished products, testing is done for contaminants that have a slight possibility of ending up in the product. For example, due to the processing of pea protein and our assurance that all of our functional foods are gluten free, we test each and every lot for gluten to confirm it meets the FDA's recently finalized definition for "gluten free."
This level of testing IS NOT THE NORM in the nutraceutical field or supplement industry. Our testing goes BEYOND FDA REQUIREMENTS to assure you are getting the best quality supplements out there and to help assure effectiveness, quality, purity and clinical outcomes for you. 
There are a few incredibly rare exceptions where products contain trace amounts of dairy or egg because of the way they need to be formulated, however they are clearly marked on the product page and are in such low quantities that even my very sensitive patients typically have not had a reaction.
The Supplements I formulate and recommend not only have have the highest quality ingredients but the ingredients are synergistic meaning they often work together to improve effectiveness ad are in the form that is best used and absorbed by your body. 
The form vitamins or minerals come in is very important as to its effectiveness or wether or not its even absorbed by the body or able to be utilized. This is something supplement companies hope you do not know or pay attention to since most supplements and companies even ones used by some doctors, pharmacies, and popular brands are not in their bioactive or best absorbed form.  You can rest assured that my formulas are always in their most bioavailable and best absorbed form for optimal clinical improvement and outcomes.
I have personally screened and used each formulated product in my store. Not only have I assured that every Health Restore product is researched, and vigorously tested, I have personally used and clinically worked hundreds and hundreds of patients using the products and assessing and following clinical outcomes, and patient improvement, to identify which products are most effective.
Shopping is risk-free with my 15 day return guarantee. I stand behind all of the products I carry in my store. If for any reason you are not satisfied with your purchase, simply send the unused portion back to me, and we will refund your money.  Protein Bars are not returnable. 
**Please see FAQ for Applicable Exclusions