Description
Encourages a balanced immune and inflammatory response

Supports cardiovascular and neurological health

Extraction process ensures fish oil integrity without use of heat, oxygen or solvents unlike other fish oils

Superior Ethyl Ester form is over 100% more bioavailable than leading fish oil supplements

Especially formulated to not cause fishy aftertaste

Supports Healthy blood sugar metabolism and insulin

Supports Healthy Cholesterol 

Surpasses international standards for purity

Supports health mental function and mood

Protects eye health and vision

Supports healthy skin and joints

Sourced from certified sustainable wild Alaskan walleye pollock and Pacific whiting from cold, clear waters off Alaska
Optimal Pure Omega Fish Oil supports your whole health
High quality, high purity, high bioavailability fish oil is one supplement I recommend to almost everyone that's why it is one of my essential recommended supplements. If you're tackling a health problem or just want to protect and improve you health and well being optimal Pure Omegas provides you with all the benefits of Omega 3 fatty acids that include healthy and radiant skin and hair, flexible joints, mood and cognitive support, and support for a healthy inflammatory immune, cardiovascular, and neurological system. 
Inflammation is a main root cause of disease and Optimal Pure Omega 3 fatty acids facilitate healthy inflammatory response
Optimal Pure Omegas is my favorite and go to for anyone who wants to support their body's inflammatory response.  Well over 8000 plus peer reviewed studies and clinical trials demonstrate the numerous health benefits of high quality fish oil supplementation and one of the most important health benefits is curbing the off track inflammatory response. Omega-3 fatty acids counter act the body's arachidonic acid-induced eicosanoid formation which is the culprit to inflammation induced disease; Omega 3 fatty acids also help generate resolvins and protectins to help your body cleanup inflammatory molecules. 
The most purely sourced and meticulously extracted, highly bioavailable omega 3 concentrate fish oil
The omega-3 concentrate used in Optimal Pure Omegas is exclusively sourced from US-caught Alaskan fish, that are certified sustainable wild Alaskan walleye pollock and Pacific whiting from the cold, clear waters off Alaska.  These freshly caught fish are processed within hours to make exceptionally fresh raw fish oil.  Again, Fish wild in the market place do not have anywhere close to this level of purity, potency and bioavailability. I will share with you a bit about the process that's followed to achieve the highest level of quality and purity in Optimal Pure Omegas.  A series of critical steps are undertaken: (1) raw fish oil triglycerides are broken down into ethyl esters; (2) EPA and DHA are separated from other fats and concentrated through flash distillation; (3) cold extraction further concentrates the oil, resulting in up to 85% omega-3; (4) molecular distillation removes fishy odor and taste, resulting in extremely fresh oil; Lastly and extremely important is (5) PCBs, chlorinated organopollutants, and toxic heavy metals are removed through filtration; and (6) high purity products are packaged in 190 kg drums or 900 kg totes under inert gas. 
Optimal Pure Omegas fish oil is therefore free of toxins, antibiotic free, non-GMO, and certified to be sustainable from clear waters off Alaska.  Most all other fish oils in the market do not take these steps, and unless these steps are taken, the fish oil is not only not beneficial to your health but can actually be toxic and damaging. 
Superior delivery system of beneficial Omega 3 fatty acids guaranteed by GRAS-Certified Enteric Gelatin Coating and Re-esterified natural form improves bioavailability more than 100%
Optimal Pure Omegas fish oils are delivered in a fish-gelatin—not a bovine-gelatin—softgel that is enteric-coated and GRAS-certified to guarantee quality.  This enteric coating helps ensure that the fish oil reaches the small intestine before being metabolized, resulting in better delivery and absorption.  It is this delivery system that also markedly decreases and or eliminates the fishy aftertaste low quality fish oil supplements have.  Optimal Pure Omegas is also delivered in the Ethyl Ester Form that is superior and natural form of fish oil. This fish oil is nearly 200% more bioavailable than other fish oil supplements since its the same form as natural fish oil in fish. All this ensures Optimal Pure Omegas surpasses international standards of purity and delivery and brings you fish oil that has the highest purity, and potency in the world. 
Optimal Pure Omegas is an excellent choice for anyone who
Wants to support their overall health and well-being

Is looking for the highest quality, purity, and bioavailability fish oil on the market

Has issues with their skin and wants to support healthy glowing skin

Wants to improve their blood sugar and insulin sensitivity

Wants to support healthy cholesterol metabolism
All Dr. Rashel Tahzib Formulas Meet or Exceed cGMP Quality Standards
How is Optimal pure Omegas best used?
Optimal Pure Omegas can be taken once daily, at 2 capsules ideally with a meal, but may also be taken on an empty stomach.
Can I take more than 2 capsules daily?
Yes, absolutely.  The dosage of two capsules daily is a minimum for getting results however many patients choose to take more for example 2 capsules twice daily especially if they need added support to balance inflammation, or added support for joints, skin, or cardiovascular health.
Are different fish oil supplements really that different from each other?
Any Health Restore supplements you are taking from are tested and third party verified and follow the most strict standards of purity, offering only the highest grade, pure nutritional supplements free of all toxins, GMO's, Gluten, Sugars, and additives.  This is not true of all supplements in the general market place despite rigorous and aesthetically pleasing marketing campaigns, supplements can still fall very short on the back end especially because there is no FDA regulation of nutritional supplements so there is no guarantee that what is advertised to you is actually in the product and further supplements especially fish oil supplements in the general market place can be loaded with toxins and fillers that may actually do more harm than any good.
Can I take my medications while using Optimal Pure Omegas?
Yes, any medications prescribed to you by your health care provider that are necessary for your medical treatment should be continued as prescribed unless you discuss with your provider otherwise. If you are taking over the counter elective medications that are not prescribed to you by your health care provider those may be stopped if tolerated so you can allow your liver and other organs a break and better chance at detoxifying.  
Can Children benefit from the Cardio-Metabolic Fit Kit?
Generally if your child is over the age of 12 and normal body weight without serious medical conditions they may use the Health Restore Detox Kit but it is always recommended that you first discuss with your child's pediatrician ssh they can take your Childs full health and history into consideration.
Can I use the Health Restore Cardio-Metabolic Kit if I am pregnant or nursing?
As a general rule it is best to wait until after pregnancy to start any Detox programs.   All of the ingredients in the Detox Kit have not been fully researched during pregnancy and there is not enough documented evidence out there as to their effects in pregnancy. Always speak to your Physician if pregnant or nursing before starting any new therapies.
Where does the fish oil in optimal Pure Omegas come from?
The omega-3 concentrate used in Optimal Pure Omegas is exclusively sourced from US-caught Alaskan fresh caught fish, that are certified sustainable wild Alaskan walleye pollock and Pacific whiting from the cold, clear waters off Alaska that are processed within just hours after catching
If I don't at beef or pork do I have to be concerned as far as the capsule?
You do not have to worry because Optimal Pure Omegas is contained in a fish gelatin soft gel capsule, completely free of bovine or pork so if you have restrictions as far as those you can use this fish oil supplement worry free.
†These statements have not been evaluated by the Food and Drug Administration. This product is not intended to diagnose, treat, cure, or prevent any disease
Directions: Take one softgel daily, or use as directed by your healthcare practitioner.
Cautions: Consult your healthcare practitioner prior to use. Individuals taking blood thinners or other medication should discuss potential interactions with their healthcare practitioner.
Does Not Contain: Wheat, gluten, corn, yeast, soy protein, dairy products, shellfish, peanuts, tree nuts, egg, ingredients derived from genetically modified organisms (GMOs), artificial colors, artificial sweeteners, or artificial preservatives.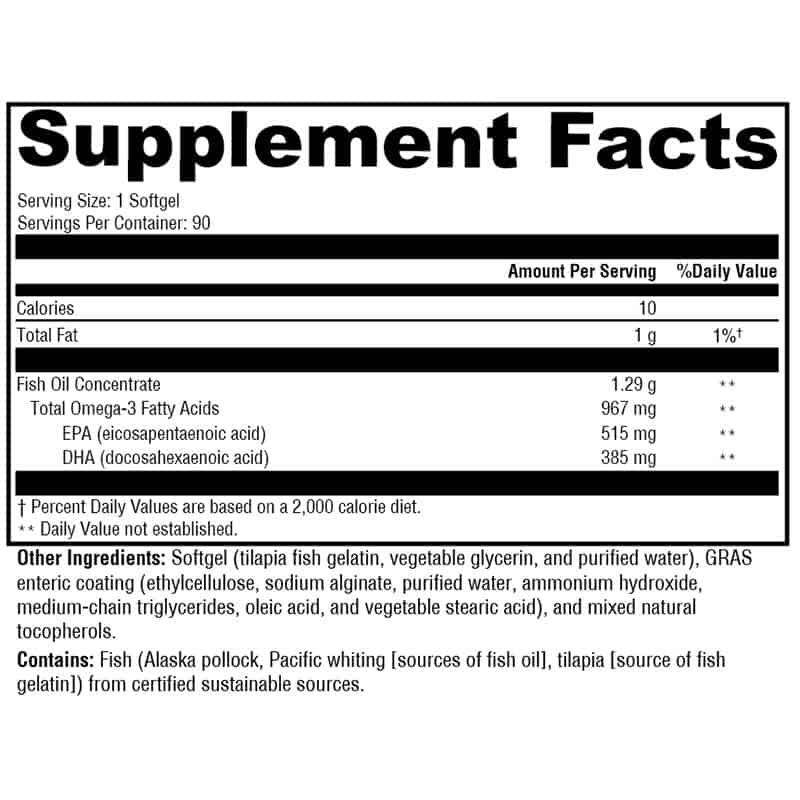 When you invest in your health through Advance Health Restore products you can rest assured that you will actually know exactly what you will receive since all our products are rigorously tested and 3rd party tested and verified.   
Surprisingly, there is no FDA regulation for nutritional supplements, meaning the supplement. Industry is not regulated. This means that each manufacturer as to their good will has the responsibility to deliver quality supplements that actually contain nutrients, in the stated amounts, and are free of harmful ingredients.  Unfortunately the supplement industry is filled with low quality supplements most of which contain harmful ingredients, additives, fillers, dyes, GMO's, and other toxins that are actually hazardous to health. The very same poor quality supplements can be packaged professionally and advertised rigorously and sold at local pharmacies, stores and online
Every supplement I carry and recommend in my store has been 3rd party tested for purity, quality, potency, and composition and received the Good Manufacturing Practices (GMP) seal. We guarantee that each of our formulas is 100% compliant with the ingredients listed on the label, meets or exceeds GMP quality standards, and undergoes rigorous testing.
Knowing this you can rest assured that what you are getting is safe, effective and nourishing and includes exactly what is stated. 
All of my Health Restore Formulas are Pharmaceutical grade, high-potency, synergistic supplements that maximize effectiveness and value.
All of my formulas are pharmaceutical grade. This means that not only has the product has been manufactured under GMP (good manufacturing practices) conditions and is safe, pure, and effective but they also contain higher amounts of nutrients and those nutrients used work synergistically together to maximize effectiveness and positive health outcomes. 
It also means that often you are getting more value for cost based on cost per unit since supplements are more potent per capsule or gram. If you look at a supplement such as my Bioactiv B Complex Supreme or Therbiotics  or Ultra Vitamin D/K 10,000 as examples you would need to take multiple capsules sometimes half a bottle of certain supplements to get the same potency.  Being that I am a physician who also applies the principles of Orthomolecular medicine to my practice, My Health Restore supplements are more potent and bioactive, using bioactive forms of vitamins whenever appropriate. The science of Orthomolecular medicine is based on using the correct forms of vitamin molecules in the correct amounts based on the body's biochemistry.  You may not have known that vitamins have active and inactive forms and in some patients the inactive forms of the vitamins (which are the forms frequently used by most nutritional supplement companies are not only ineffective for many patients but can actually be harmful to some patients like those with the MTHFR DNA Mutation as one example. 
My Health Restore supplements are free of harmful toxic ingredients and do not contain gluten, dairy, soy, GMOs, preservatives, or dyes.  Think about it, most of you who are here take your health seriously and pay attention to the foods you eat and their ingredients avoiding toxic and inflammatory foods such as foods with dyes, preservatives, GMO's, gluten etc.  Why should you be getting a dose of these toxic compounds in your daily supplements. Most people may not realize that toxic ingredients may even be in nutritional supplements but as discussed above and being that there is no FDA regulation this is often the case.  My products are rigorously tested and in In assuring the purity, strength, and composition of all Health Restore products each finished product has the following performed prior to releasing for distribution:
Label Claim Verification

 – Each active ingredient is verified to be no less than 100% of the amount claimed on the label.

Microorganisms

 – Must meet United States Pharmacopeia (USP), American Herbal Products Association (AHPA), and/or National Sanitation Foundation (NSF) acceptance criteria for dietary supplements.

Heavy Metals

 – Most products are required to meet USP acceptance criteria for dietary supplements. Where feasible, others must meet California's Proposition 65 safe harbor levels.

Physical Characteristic

s – Capsule/tablet weight average and weight variation, disintegration, organoleptic testing, scoop testing, etc.

Reasonably Anticipated Contaminants

 – In certain finished products, testing is done for contaminants that have a slight possibility of ending up in the product. For example, due to the processing of pea protein and our assurance that all of our functional foods are gluten free, we test each and every lot for gluten to confirm it meets the FDA's recently finalized definition for "gluten free."
This level of testing IS NOT THE NORM in the nutraceutical field or supplement industry. Our testing goes BEYOND FDA REQUIREMENTS to assure you are getting the best quality supplements out there and to help assure effectiveness, quality, purity and clinical outcomes for you. 
There are a few incredibly rare exceptions where products contain trace amounts of dairy or egg because of the way they need to be formulated, however they are clearly marked on the product page and are in such low quantities that even my very sensitive patients typically have not had a reaction.
The Supplements I formulate and recommend not only have have the highest quality ingredients but the ingredients are synergistic meaning they often work together to improve effectiveness ad are in the form that is best used and absorbed by your body. 
The form vitamins or minerals come in is very important as to its effectiveness or wether or not its even absorbed by the body or able to be utilized. This is something supplement companies hope you do not know or pay attention to since most supplements and companies even ones used by some doctors, pharmacies, and popular brands are not in their bioactive or best absorbed form.  You can rest assured that my formulas are always in their most bioavailable and best absorbed form for optimal clinical improvement and outcomes.
I have personally screened and used each formulated product in my store. Not only have I assured that every Health Restore product is researched, and vigorously tested, I have personally used and clinically worked hundreds and hundreds of patients using the products and assessing and following clinical outcomes, and patient improvement, to identify which products are most effective.
Shopping is risk-free with my 15 day return guarantee. I stand behind all of the products I carry in my store. If for any reason you are not satisfied with your purchase, simply send the unused portion back to me, and we will refund your money.  Protein Bars are not returnable. 
**Please see FAQ for Applicable Exclusions