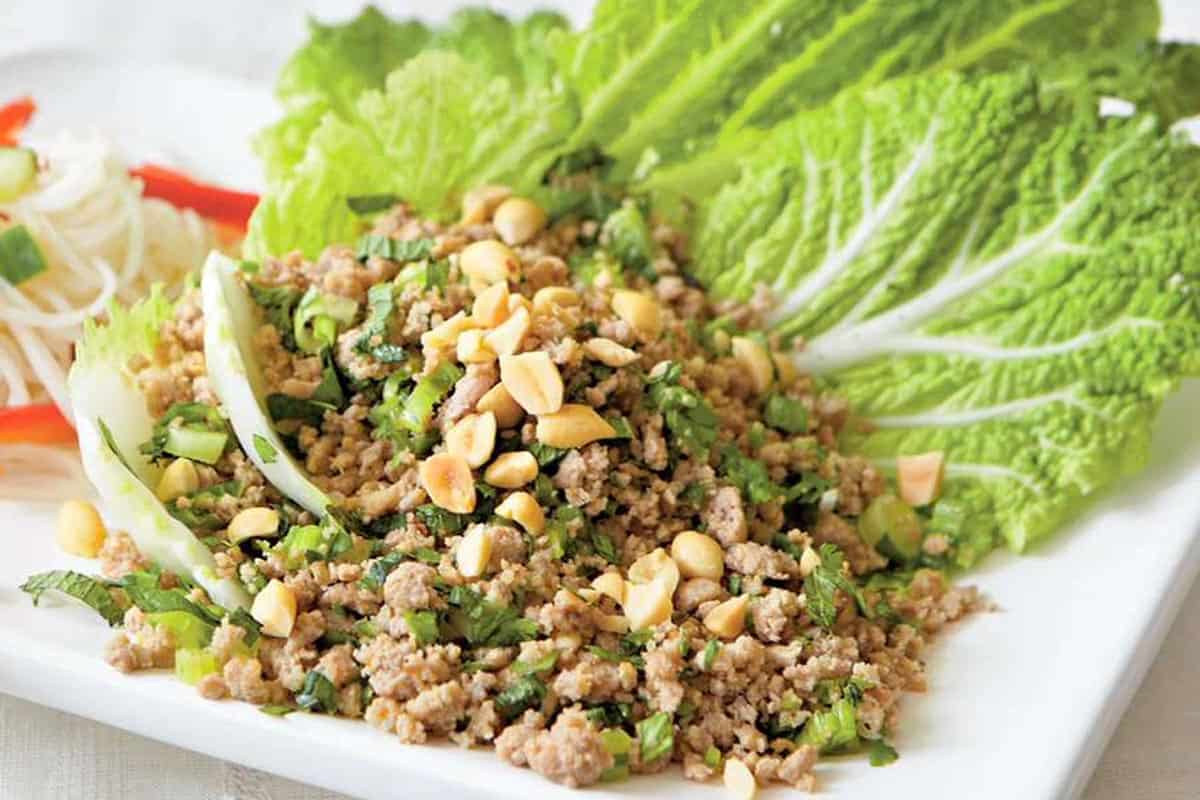 1
lb
ground turkey breast
1
tbsp
grated fresh ginger root
2
cloves fresh garlic, minced
1
cup
(≈1 bunch) thinly sliced green onions
1
jalapeño pepper, finely chopped (optional)
1
cup
sliced red bell pepper (1-inch strips)
1
shredded carrots (≈2 cups)
2
cups
package broccoli slaw (≈2 cups)
1
tbsp
chopped fresh mint
2
tbsp
chopped fresh cilantro
6
cabbage leaves, lightly steamed for 1–2 minutes
2
cups
chopped almonds, roasted
1
Makes 6 servings (1 serving ≈ 1 cup)
2
In a small bowl, mix together fresh lime juice, arrowroot powder, coconut aminos, and sesame oil. Set aside.
3
In a large skillet or wok, heat coconut oil over medium-high heat. Add ground turkey breast, ginger, and garlic. Stir often until turkey is browned and cooked through, about 6–8 minutes.
4
Add green onions, jalapeño, bell peppers, shredded carrots, and broccoli slaw. Stir-fry until vegetables are crisp, but tender.
5
Add the lime juice-arrowroot powder mixture to the meat & vegetables. Mix thoroughly. Turn heat to low. Fold in chopped mint and cilantro.
6
Arrange steamed Chinese cabbage leaves on a serving platter. Spoon about 1 cup of mixture onto each leaf. Top with chopped almonds.
7
Tips: Shredded carrots and broccoli slaw are available prepackaged, or you may shred with a food processor or box grater. If grating your own broccoli slaw, use just the stalks of the broccoli. If you are sensitive to corn or you are following an elimination diet, substitute tapioca or arrowroot powder in place of cornstarch. Can use leaf lettuce or Bibb lettuce (not steamed) in place of cabbage leaves.