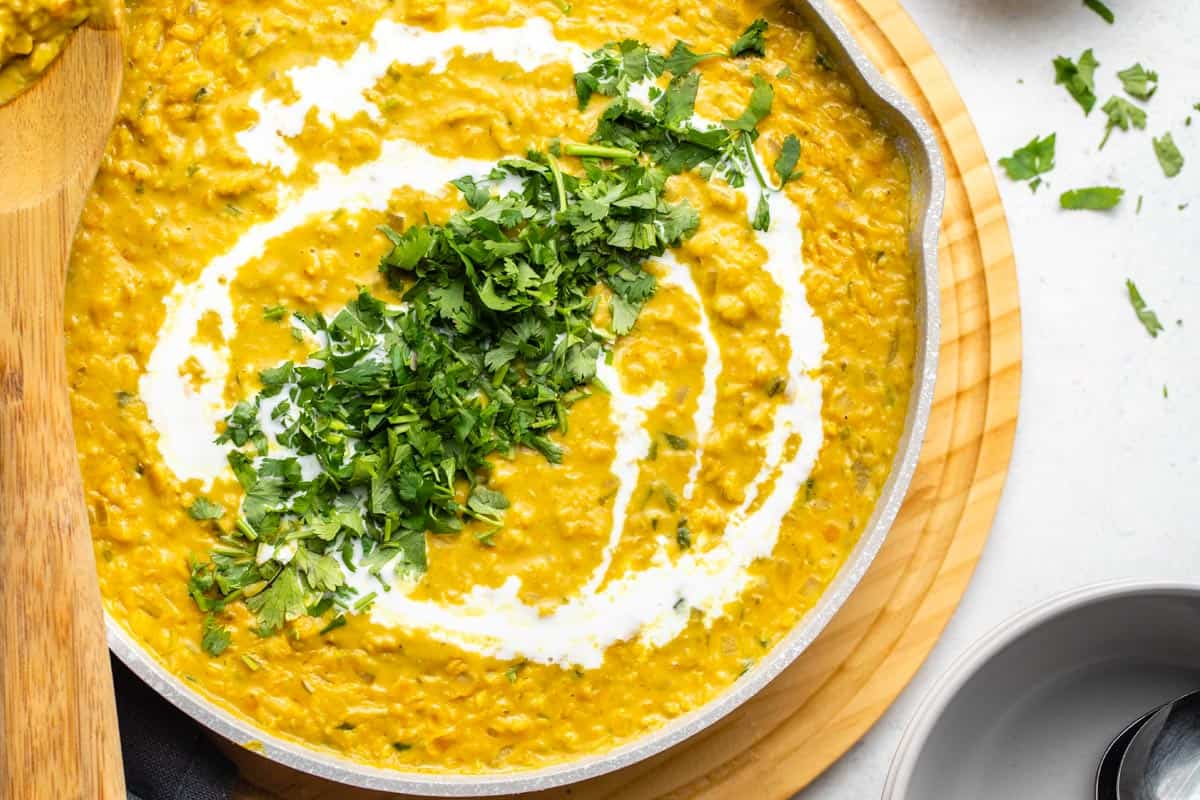 1
lb
boneless, skinless chicken thighs
2
cups
yellow split peas (dry)
3
tsp
coconut oil, divided
3
cloves garlic, pressed or grated
1
tsp
grated fresh ginger
1
qt
chicken broth, low-sodium
2
cups
(14 ounces) lite coconut milk
1
Makes 6 servings (1 serving ≈ 1 cup)
2
Place the chicken thighs on a plate and sprinkle salt and pepper on both sides.
3
Rinse the split peas in a colander and set aside to drain.
4
Heat a large saucepan over medium-high heat. Add 1 teaspoon coconut oil to the pan. Add the chicken thighs and sear both sides, about 2–3 minutes on each side. Remove from the pan and set aside (okay to use same plate, as the chicken will be cooked further).
5
To the same pan, add 2 teaspoons coconut oil. After it melts, add onion and sauté.
6
While onion is cooking, chop the chicken thighs (using a plastic cutting board) into bite-sized pieces.
7
Place chicken back in pan. Add garlic, ginger, and turmeric. Sauté for a few minutes.
8
Add chicken broth and stir with wooden spoon. Scrape up the bits of cooked chicken from the bottom of the pan to ensure the best flavor. Add the lite coconut milk and peas.
9
Simmer uncovered over medium heat until peas are soft (approximately 30 minutes).
10
Sprinkle with fresh cilantro just before serving.
11
Tip: This can be served over brown rice or eaten with a side of non-starchy vegetables.
Recipe from IFM